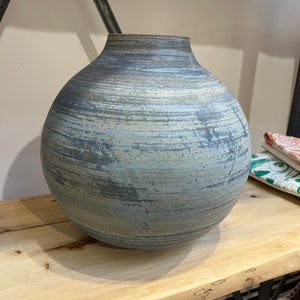 Modern stoneware vase handcrafted by Black Phoebe Ceramics in Las Cruces, New Mexico.
"Each Black Phoebe piece is made with wheel thrown stoneware, and all glazes are custom mixed / tested in-house. I apply multiple different glazes in thin layers, to achieve my desired effect. Some surfaces may have up to ten glazes applied, a swoosh here or some freckles there, to add visual interest. I spend the majority of my time applying glazes, and like to keep silhouettes clean and minimal to highlight surfaces. Each item is lead free and food safe." -Heather Rae Morton
Dimensions: "13 in diameter and " 6 tall
Mouth - rim 11mm
One of a kind and ready to ship.