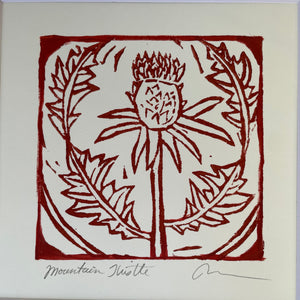 "Mountain Thistle" is a hand made original block print, and is crafted by Rebecca Kunz in her Santa Fe studio.
This 8 x 8" block print on cotton paper is beautifully packaged in an archival crystal clear protective sleeve. The print is signed, and includes with an artist biography on the back of the print.
Each print may have slight variations, which is the nature of hand made printmaking.