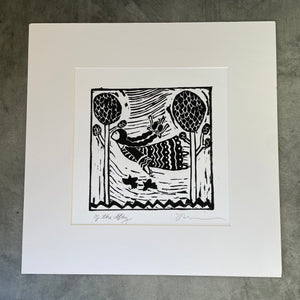 "Of the Sky" is a black and white handmade original linocut block print, and is crafted by Rebecca Kunz in her Santa Fe studio. About the inspiration for this piece "came to me in a dream when I was flying over my ancestral homeland. I could see my village and my people below me, as I blissfully glided above."
This 12 x 12" ready-to-frame print comes with a heavy white cardboard backing, an archival white mat, and is beautifully packaged in an archival crystal clear protective sleeve. The print is signed and includes an artist biography on the back of the print.
Each print will have slight variations, which is the nature of handmade printmaking.